Nuclear Energy Futures: EPSRC Sponsored Centre for Doctoral Training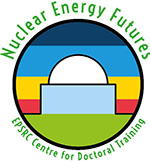 The EPSRC Centre for Doctoral Training in Nuclear Energy Futures launched in 2019 and will train help the next generation of PhD students in nuclear science, technology and engineering.
The CDT is led by Imperial College London and unites Bangor University with partners from across the UK. The consortium comprises: Bangor University, University of Bristol, University of Cambridge, Imperial College London and The Open University.
Find out more...
More information (including how to apply) is available from the main CDT web page.
For enquiries relating to the CDT at Bangor please contact Dr. Michael Rushton.